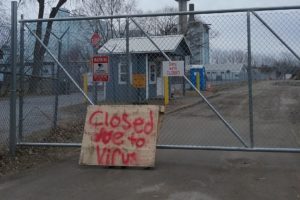 COVID information specifically relevant for arts and cultural heritage organizations and artists [last update: March 10, 2021]:
The Vermont Arts Council's initial relief programs, which included Vermont Rapid Response Artist Relief, Vermont COVID-19 Cultural Relief, and the Vermont Economic Recovery Grant Program, have closed. The Vermont Arts Council continues to advocate for further recovery and relief funding; check back on this page for announcements about future funding. More info here.
The CERF+ COVID-19 Relief Grant provided one-time $1,000 grants to artists working in craft disciplines who faced dire food, housing, and medical insecurities caused by the pandemic. Priority was given to eligible artists who have traditionally been underserved by the grantmaking community, including Black, Indigenous, People of Color, and folk and traditional artists. CERF+ had a third cycle of this program that accepted applications through February 3, 2021.
National resources, present…
Jovan Johnson's combination

marketing + micro grant for artists

(similar grants also available for Black or Minority business owners and women who own businesses). While there is not currently a cap on the number of monthly marketing grantees, there is currently (1) $100 micro-grant each month per program. Marketing assistance will continue indefinitely. No fees are required of applicants.
Take the Americans for the Arts

5-minute survey

to assess the economic impact of COVID-19 on the arts and culture sector. The survey is still open as of January 22, 2021.
…and past
A coalition of national arts grantmakers came together to create an emergency initiative to offer financial and informational resources to artists across the United States. Artist Relief provided $5,000 grants to artists facing dire financial emergencies due to COVID-19: https://www.artistrelief.org/. The fund closed in December 2020.
The Americans for the Arts Action Fund developed a seven-page table that provides information about CARES Act funds from the perspective of a nonprofit arts org, a governmental arts agency, a commercial arts company, a self-employed individual artist, and as a taxpayer. Last updated: May 28th.

Review the Americans for the Arts

digest of arts support included in Federal COVID-19 relief bill

(posted 3.26.2020) and the National Council of Nonprofits analysis of

what is in the bill for nonprofits.

As part of the CARES Act, the National Endowment for the Humanities received $75 million

to assist cultural organizations and humanists

impacted by the coronavirus: $30 million of that will go directly to state Humanities Councils. The National Endowment for the Arts received $75 million

for arts organizations

in need. The Institute of Museum and Library Services received $50 million

to address the digital divide.
The National Endowment for the Arts made the following awards in Vermont:
• Kingdom County Productions, Barnet, $50,000
• Dorset Theatre Festival, Dorset, $50,000
• Vermont Folklife Center, Middlebury, $50,000
• Community Engagement Lab, Montpelier, $50,000
• Yellow Barn, Putney, $50,000
• Weston Playhouse Theatre, Weston, $50,000

The National Endowment for the Humanities made the following awards in Vermont:
• Vermont Historical Society, Barre, $133,512 for "Preserving and Expanding Access to Vermont's
History
• Vermont Folklife Center, Middlebury, $97,017 for "Listening in Place: COVID-19 Archival
Outreach Project"
• University of Vermont, Burlington, $69,263 for "Virtual Visitor Engagement at the Fleming
Museum of Art"
• Lake Champlain Maritime Museum, $53,036 for "Navigating for the Future"
• Sheldon Art Museum Archaeological and Historical Society, Middlebury, $29,362 for "Archives
Alive: Building Primary Source Collections During COVID-19

Other useful resource aggregators:
Art is still happening in Vermont and artists and organizations are documenting and reflecting on the pandemic. Learn more.